"We gotta get her in the head-gate and pull this calf…NOW!"
It was around 1pm on a sunny afternoon a week ago and we had a first-calf heifer who had been in labor, with her calf's legs sticking out, for going on three hours.   Jer's first attempt to put chains on the calf's legs resulted in him being drug through the woods 30 feet.  Any further attempts were unsuccessful as she would not let him get close enough again to put chains on. This momma cow was NOT going to let us help her.
We had a cow last year in a similar situation but after a couple of hours she finally gave in, laid down and let us help her get the calf out.  This time, though, we had to accept the fact that this momma cow was not going to lay down and let us help her and she certainly was not going to be able to deliver this calf on her own.  We could very quickly end up with a dead cow and dead calf, if the calf wasn't already dead.   We had to go to plan B and get this momma in the head-gate and pull her calf.
While we have had our cattle and farm for two years and we do own a head-gate with a homemade alleyway, our facility is far from what we would ultimately like.  With a lot of patience and a lot of creativeness, our facility works and suits our purposes for the time being.
In this situation, we already had the cow in the pasture with the head-gate and alleyway; the wrinkle in the plan, though, was that this pasture was also open to the woods, where very easily this cow could make herself extremely inaccessible to us.   We needed to guide her to the alleyway but keep her from darting into the woods.
So, while Jer kept an eye on our laboring momma, I quickly constructed a fence with plastic rods and white fence tape, blocking off access to the woods.  Within minutes we were able to calmly (outwardly calm, inwardly hearts racing) work her down the pasture, along the makeshift fence and into the alleyway.  Jer secured the gate to the alleyway, and we moved as quickly as possible and positioned her into the head-gate.
With her secured in the head-gate, we quickly got to work.  We positioned ourselves behind her in the alleyway and secured the chains on the calf's legs.   At this point, we had no clue if the calf was still alive.  Chains secured, we leaned back, braced ourselves and pulled.  The safest way to pull a calf is to pull as the cow is having contractions.  This cow, though, was barely contracting and we had to do most of the pulling with very little help from her.  We would pull, take a few second break, watch if she was contracting and pull again.  After a few minutes, we were finally able to see the mouth with the tongue hanging out and part of the head and it about knocked the socks off our boots to see that tongue move.  Goodness gracious, this calf was alive!
We still had a chance at a live calf.  We were thrilled but also very nervous because this cow had basically given up and it was up to us to pull this calf out.  We pulled some more and the head, shoulders, and front legs came out.  At this point, we had a live calf, with half it's body hanging out in front of us and the other half still firmly lodged inside its mom and the mom was crouched in the chute, not moving or contracting but still alive.  We each took turns sticking our hands inside and trying to twist and move the calf around and try to loosen something up to help pull the rest of this calf out.  After trying that for a few minutes, we poistioned ourselves back into our pulling positions and started pulling again. Nothing.  We pulled again.  Nothing.  The calf's head is dangling above the ground and he/she is looking at us.  We pulled again.  Nothing.  This calf's hips were locked.  The cow was not contracting.  How were we going to get this calf out alive?
Well, folks, someone was looking out for us and that momma cow and calf that sunny afternoon.  As if she knew her life and her calf's life depended on it, that momma cow gave us a good contraction and we pulled with every ounce of strength we had.  As we were pulling, the calf's hips started to give and Jer yelled out that the calf was coming.  We continued to pull and as that calf flew out, I fell onto my back into mud and manure and the calf landed on top of me.  I never thought I could be so happy laying in cow poop but I was almost thrilled to tears.  Hormones were running high for me especially as I was 3 months pregnant at the time.
Jer carried the calf out of the alleyway and placed him in sight of his mom, above the head-gate.  It took some nudging and encouraging on our part, but that momma cow finally stood up in the chute and walked through the head-gate and to her calf.  From her first lick, she never left that calf's side.  She spent an hour encouraging her calf to stand and he finally did.  Shortly thereafter he nursed for the first time and we breathed our second big sigh of relief.   Jer had to leave a few hours later for work and he would be in the woods overnight.  Even though the calf had nursed a bit, we decided to give him a little extra nutrition and boost of energy and Jer tube-fed him some colostrum before he left.
Later that evening, that 90lb calf was walking around with his mom, acting as if his entrance into the world was a piece of cake!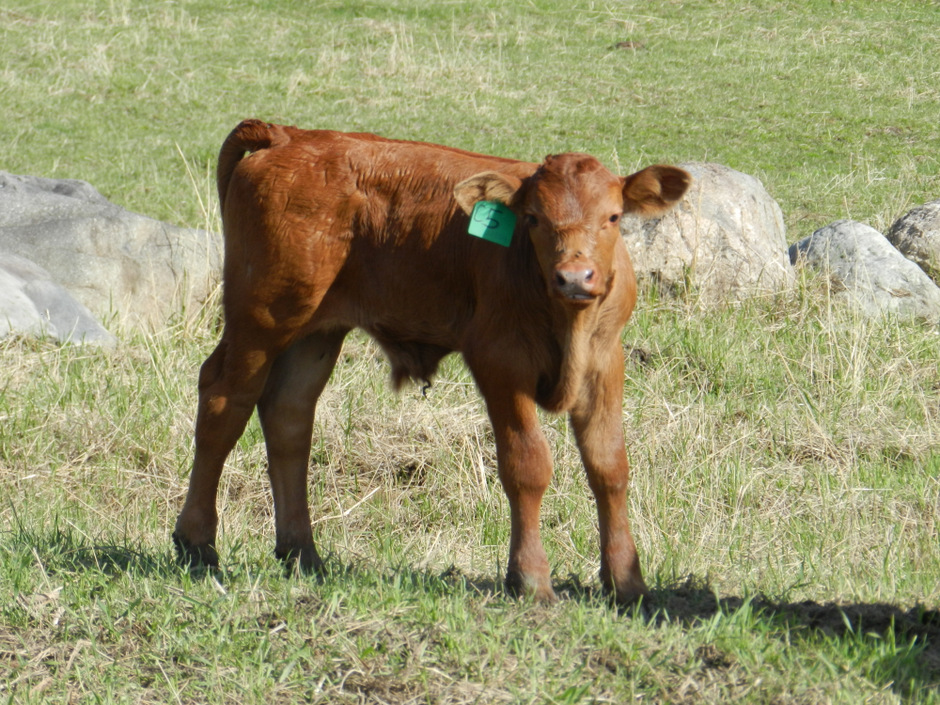 Our 11th calf was going to be alright!
Our adventure that afternoon reminded us once again how important and critical it is to have a safe and efficient way to move our cattle when we need to get them secured in the head-gate.  We would like our handling facility to be the core, central location on the farm connected to each pasture via a fence corridor or alleyway.  Another project!  We are never short on those!  Furthermore, we really, truly need a real-deal cattle handling facility.  Head-gate with squeeze chute, connected to a more sophisticated and stronger sweep alley system with a crowding tub.  These bad boys cost about $30,000 brand new.  Our only hope is to find a used system within a reasonable distance of our farm and for a reasonable price.
Stayed tuned for an update on our improved cattle handling facility!